The NCPD Center for Training & Intelligence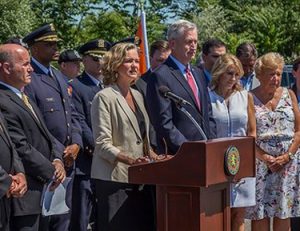 "The need for the NCPD to construct its own training facility has been discussed for decades.  We don't want to waste any more time.  Let's get a shovel in the ground."
Nassau County Executive, Laura Curran – Mineola, NY – July 11, 2018
After too many years, the Nassau County Police Department, nationally recognized as one of the finest in the nation, is getting a proper Police Academy.  Since 2007 the NCPD Police Academy has been functioning in an antiquated & inadequate leased building – a former elementary school.  Now, plans are in the works to build a state-of-the art facility designed to accommodate the cutting edge purposes purpose and goals of a 21st century law enforcement agency – responsive to the issues of today and for whatever the difficulties that the future may hold, all in order to maintain the safety and well-being of the millions of people living, working and visiting Nassau County.
Click here to see more…
The new 89,000 square-foot facility will be located on the campus of Nassau Community College, and besides containing 10 modern multi-purpose classrooms & training & tactical facilities, there will be an asset forfeiture & a high technology intelligence lead development center, a 500 seat auditorium, a recruitment center,  an emergency vehicle operations course, and it will house the NCPD's Sensitive Compartmented Informational Facility, (SCIF – pronounced "sciff"), to process classified information.
Besides creating & providing a much needed instructive & basic training space for police trainees, the center's focus, the center's usage will not be limited to just police cadets.   The center will also be a venue to serve the community, offering community meeting space, holding police awareness campaigns, and to promote community youth programs like: the Police Youth Academy, PAL – the Police Athletic League,  Civilian Police Academy, Summer Basketball Camps, and the Nassau Community College Criminal Justice Partnership, to name just a few.
This  long overdue, comprehensive facility, is expected to play a major role in preserving the safety of the people of Nassau County for today and for countless years to come. This Nassau County Project is a new day for Nassau County & Long Island and the region as a whole.  The project is expected to cost $54 million bond for both construction & project management.
Ground breaking is planned for the late fall of 2018.
To learn more and find out how you can demonstrate your support for this project, you can email us via our contact us page.
Follow Us: