Things are always happening on Long Island, and especially in Nassau County.  And when the NCPD, the NCPD Foundation and caring citizens come together, GREAT things happen.  Check out these events, past events and news stories below.  And don't forget to keep in touch with our Social Media to see more timely news and event information on  facebook & instagram.
CRIME IS TOAST BREAKFAST MEETING 2019
On June 25, the NCPD Foundation hosted a breakfast event at Glen Oaks Country Club regarding the Nassau County Police Department's status and successes of the latest policing initiatives including opioid and gang enforcement, education and prevention.  Speakers included Commissioner of Police Patrick Ryder, County Executive Laura Curran, District Attorney Madeline Singas, and NCPD Foundation Chairman of the Board – Eric Blumencranz.  In attendance were community leaders, members of the foundation Board and Advisory Board, elected officials and Village law enforcement partners, who were asked to share this information with their constituents and the communities that they serve.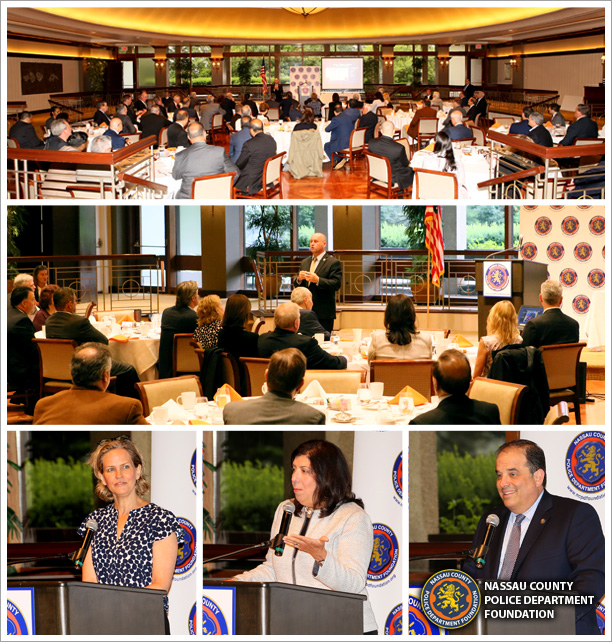 CENTER FOR TRAINING & INTELLIGENCE – POLICE ACADEMY GROUND BREAKING CEREMONY.
May 29 was a historic day for the NCPD and the NCPD Foundation as we joined the County Executive, District Attorney and members of the Nassau County Legislature to break ground on the historic Center for Training & Intelligence. This 89,000 sq foot police academy, which will be completed in 2021, is a state-of-the-art facility that will house our academy training operations, a 500 seat auditorium and intelligence units. It will be utilized by all local, regional and federal law enforcement partners. Since 2010 the police foundation has been raising money to help construct this facility and to date we have spent over $3.2 million on the architectural and environmental services needed to get this academy underway. We are proud to have been a part of this historic project for the NCPD which will ensure our officers are trained properly for years to come.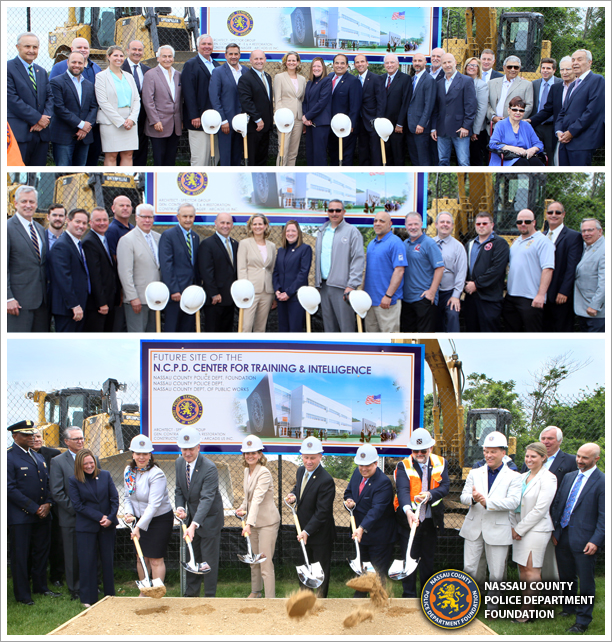 LITTLE LEAGUE STRIKES OUT DRUGS
On Saturday, April 13 the NCPD Foundation partnered with the New York Mets and Wantagh Little League to kick off the NCPD's Little League Strikes Out Drugs initiative. Little leaguers across Nassau County will be issued Little League Strikes Out Drug helmet stickers to show their support in the fight against opioid abuse. The helmet stickers were distributed at this kick-off event with the help of former Mets pitcher Nelson Figueroa and Mr. Met!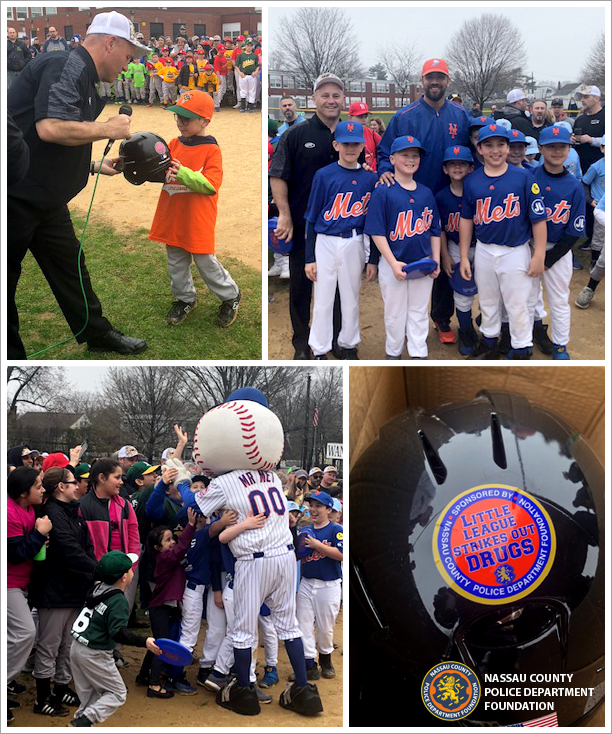 COPS AND CURLS
On Saturday, April 13,  34 lucky young ladies from around Nassau County participated in the Cops and Curls Commencement luncheon sponsored by the Nassau County Police Foundation at Matteo's restaurant in Roslyn. These young  student's ages 9 to 13 over the past two weeks received educational instruction on self-esteem, healthy relationships, nutrition, exercise and etiquette from numerous adult female professionals within Nassau County. This training concluded with the ceremonial luncheon where they were able to  wear prom dresses that were collected by members of the NCPD through the efforts of the Nassau County Police Hispanic Society, the Nassau County Police Guardians and the Nassau County Association of Women Police. Cops and Curls was designed to build and continue relationships in the community as well as promote future careers in law enforcement. At the luncheon the ladies enjoyed dancing, a photo booth and comradery from members of the NCPD including Commissioner Ryder!

NCPD NAMES THE NEW NORTH BELLMORE NCPD SPECIAL OPERATIONS TACTICAL TRAINING CENTER AFTER FALLEN NCPD BUREAU OF SPECIAL OPERATIONS POLICE OFFICER GEOFFREY J. BREITKOPF
Bureau of Special Operations Tactical Training House Dedicated on March 12, 2019 in memory of fallen BSO Officer Geoffrey Breitkopf who was killed in the line of duty March 12, 2011. This tactical training house was made possible through a donation by the NCPD Foundation to fund the purchase of the materials and was constructed by the members of the Bureau of Special Operations. The training that will happen here will hopefully prevent other tragedies from happening in the future.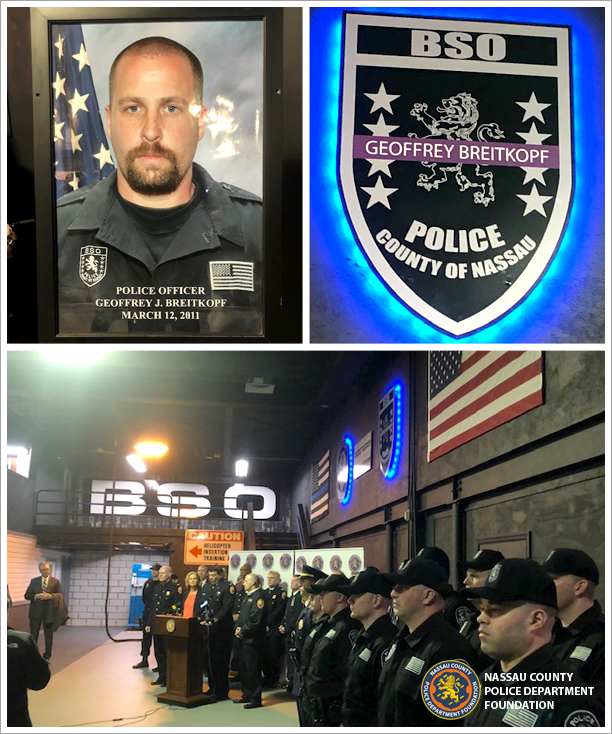 SWOOSH!!  THANKS TO ALL WHO ATTENDED & SUPPORTED THE 1ST ANNUAL LAW ENFORCEMENT CHARITY BASKETBALL GAME.
The NETS won over the Memphis HUSTLE, the New York Police Department came in first place, and everyone in attendance & ALL New Yorkers WON at the First Annual Law Enforcement Charity Basketball Game held at the Nassau Coliseum on Sunday, February 24th.  Great games & congratulations to the New York City Police Department Team for winning this competition. The NCPD also took home a trophy winning 35 – 25 over the Suffolk County PD, but it was more than a competition. NCPD Commissioner of Police, Patrick Ryder said, "It's solidarity. It's brotherhood. It's about raising money, showing that we give back also, and we're going to give back to our veterans, which are our true patriots." Shown are images of the Nassau Commissioner of Police Patrick Ryder with the NCPD Lions Basketball team members and with the Nassau County Explorer Drill Team who kicked off the event.  Thanks to all of teams in law enforcement that participated, the Long Island Nets, those fans in attendance, and all those who helped & supported this event.

SLAMMIN' DRUG ABUSE TO THE MAT. WRESTLING TAKES DOWN DRUGS.
On Saturday, Feb 16 over 300 long island youth wrestlers participated in NCPD's First Annual Wrestling Takes Down Drugs, a program designed to create awareness of opioid & drug abuse and prevention in Nassau County, was held at Nassau Community College. Nassau Commissioner of Police Patrick Ryder joined by members of the LI Friends of LI Wrestling, members of the NCPD and hometown wrestling heroes such as former UFC Middleweight Champion Chris Weidman taught wrestling demonstrations and taught kids about staying away from drugs. The event was sponsored by the NCPD Foundation and t-shirts, bags and wristbands were given to each participant.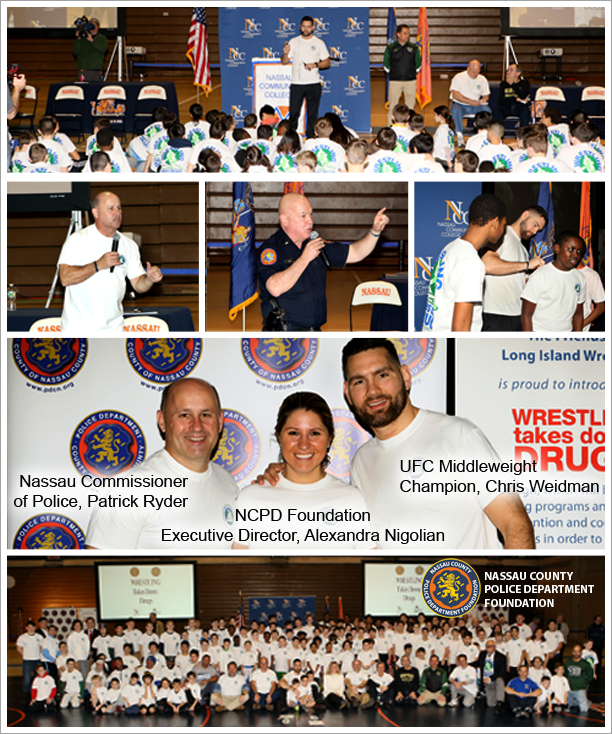 Halloween Treats With Cops!
The Nassau County Police Department Foundation sponsored the NCPD's "Treats with Cops" Halloween Event at the Hicksville Elementary School.  This fun event encouraged Halloween Trick or Treat Safety as well as promoting the concept that the Police are our Heroes!
Meet Bernie & Chief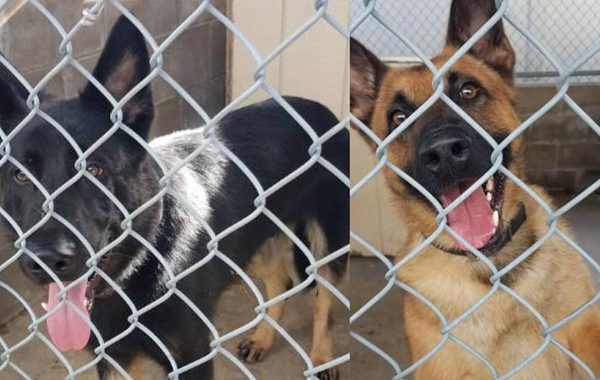 Meet Bernie and Chief the newest members of theNassau County Police Department canine unit! Thanks to the generosity of our NCPD Foundation donors, these special dogs will be trained to detect bombs and narcotics. We will be following them along their training journey to active duty.
Proudly Introducing 3 New Members of the NCPD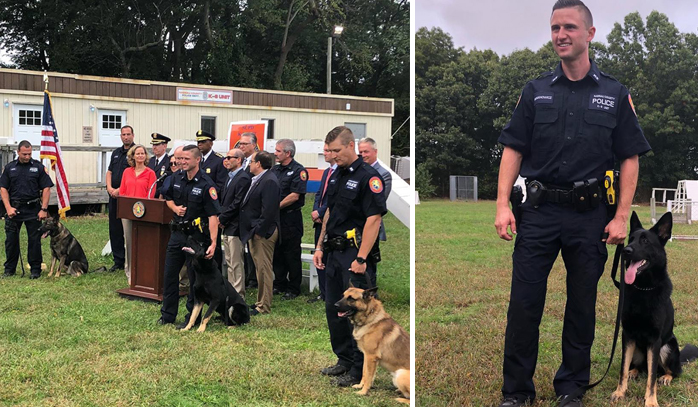 Today was a great day for the Nassau County Police Department as they gained 3 new members! K9's Chief & Bernie donated by the NCPD Foundation along with K9 Touro named after fallen officer Artie Lopez were added to the NCPD K9 Unit making the total unit 12 dogs. These new members will go through 6 months of training before they officially join the force this coming Spring and specialize in either narcotics or bomb detection.
Past/Archived News/Events
Sometimes what has happened in the past is as interesting as when it was happening.  So we've archived a few highlighted stories/news/events from the recent and distant past, that we thought you might still might find relevant and find thought-provoking.
Click here to see more…
NCPD Foundation Sponsors Police Activity League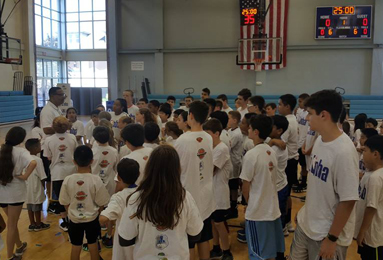 July 2018 –
(Garden City, New York) July, 2018– The Nassau County Police Activity League hosted a basketball clinic in association with the National Basketball Retired Players Association (NBRPA), the National Police Athletic/Activities Leagues (PAL), Jr. NBA and the Leadership Foundation as part of a 15-city nationwide youth basketball and life skills program/clinic on June 30th sponsored by the NCPD Foundation.
[read more]
NCPD Foundation Helps Sponsor Team Building Academy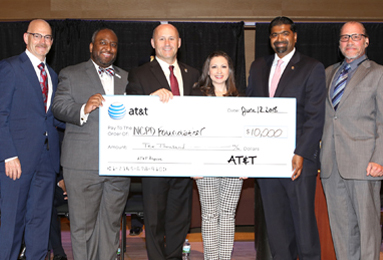 June 2018 –
(Garden City, New York) June 12, 2018– The Nassau County Police Department (NCPD) Foundation is proud to accept a $10,000 contribution from AT&T to benefit the NCPD Explorer Program and its 2018 Team Building Academy.
[read more]
Nassau County Police Department (NCPD) Honoring NCPD's Veteran Officers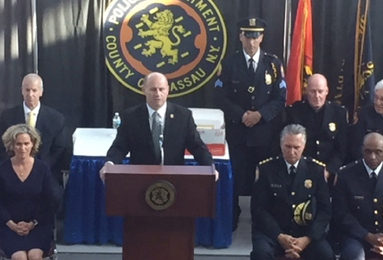 June 4, 2018 –
(Garden City, New York) On June 4, 2018, we were proud to sponsor the NCPD's first ever ceremony honoring our active and retired military veterans including two of our finest who served in WWII.
[read more]
NCPD Memorial Park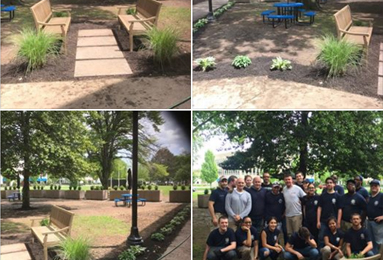 May 2018 –
Finished product of today's hard work – NCPD Memorial Park — thanks to the hard work of the Police Explorers, Nassau County Police Department members and Nassau County Police Department Foundation who volunteered today to make the park and the memorial ready for Tuesday's ceremony.
Nassau County Police Department (NCPD) Foundation, 2017 Heroes & Helpers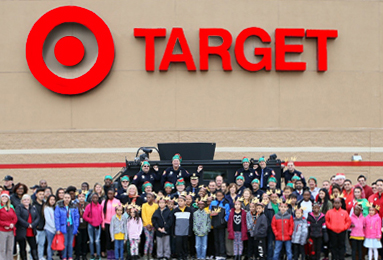 December 6, 2017 –
(Garden City, New York) On Wednesday, December 6, 2017, the Nassau County Police Department Foundation partnered with the Westbury Target store to host a community event called Heroes & Helpers. The event pairs police officers from the NCPD with 40 financially disadvantaged children from within the Westbury School District. The Heroes & Helpers program helps foster strong community relationships as children from the Westbury area shop with police officers for holiday gifts for their families through an awarded Target grant. This year the NCPD Foundation generously matched Target's grant doubling each child's spending limit to $250.00 per child. [read more]
NCPD Foundation & Toys of Hope & Giving Project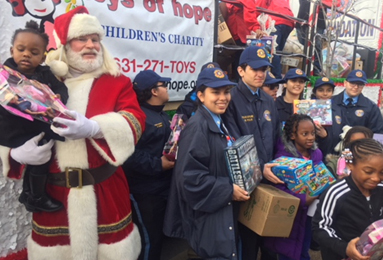 December 2017 –
(Garden City, New York) December 2, 2017– The Nassau County Police Department (NCPD) Foundation, Toys of Hope Children's Charity and American Giving Project host a toy parade for disadvantaged children in the Roosevelt, Uniondale, Freeport and Baldwin communities.[read more]
Nassau County Police Department (NCPD) Foundation Announces $65,000 Equipment Donation to Auxiliary Police and Advanced Medical Technicians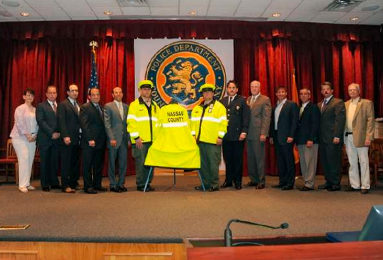 June 10, 2013 –
In support of the Nassau County Auxiliary Police and Advanced Medical Technicians (AMT's), the NCPD Foundation raised $65,000 to purchase 600 high-visibility raincoats, hat… [read more]
Nassau County Police Department (NCPD) Foundation Announces Financial Support for R.E.A.C.H. Program NCPD Foundation helps fund innovative program that aids those with cognitive disorders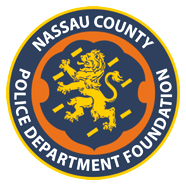 April 2, 2013 –
In support of the Nassau County Police Department Return Every Adult & Child Home (R.E.A.C.H.) Program, the NCPD Foundation donated $6,000 to purchase 5,000 wristbands, lanyards and identification cards to help officers identify individuals registered in the program… [read more]
Nassau County Police Department Foundation Re-Launches Website
A brand new interface highlights their Center for Law Enforcement and Intelligence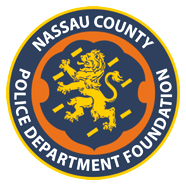 October 24, 2011 –
The Nassau County Police Department (NCPD) Foundation, a non-profit public-private partnership aimed at raising funds to build a state-of-the-art police academy and intelligence center in Nassau County, today relaunched their website (www.ncpdfoundation.org) to provide more robust information about their mission and the progress of it. [read more]
Learn More About the Proposed NCPD Center for Law Enforcement & Intelligence – Police Academy  – the Groundbreaking and How YOU Can Contribute to this State-of-the-Art Facility.
Follow Us: